Polo Forest Gujarat: By reading the name of the Polo Forest forest, you may feel as if I am going to talk about some forest, but the Polo Forest is more than a normal forest.
Polo Forest is a natural place located in Vijayanagara, during the rainy season, this place becomes very beautiful and the weather here also becomes pleasant. Very good place for Polo Forest 1 Day Trip.
People go here to see the beautiful views of nature. However, the special arrangement for overnight stay here is limited if you do not know much about the Polo Forest.
And if you want to know about it before going here, then this post is going to be very useful for you. Here I have given important information about Polo Forest, so that you will be able to know everything about Polo Forest.
About Polo Forest
Polo Forest is a dry mixed deciduous forest located in "Vijayanagar Taluka" in Sabarkantha district of Gujarat state. It is near to Abhapur village. It is located in the foothills of the Aravalli range and on the banks of the Baharmasi Harnav River, spread over an area of ​​400 km (99,00 acres).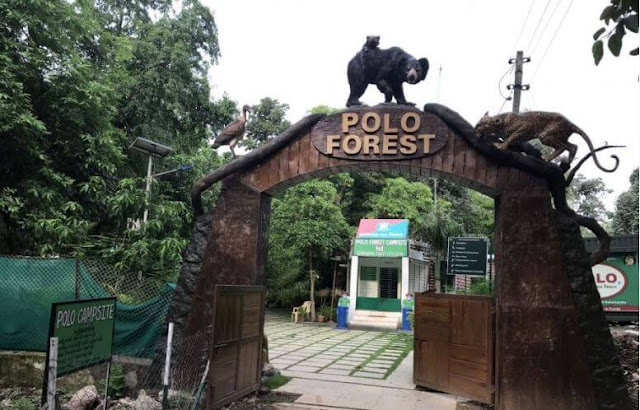 The name Polo in Polo Forest is derived from "Pol" which literally means "a gate" in Marwari language. It was given such a name because Polo is considered to be the gateway between Rajasthan and Gujarat.
This place is a historical place for a day picnic. This area is situated in the midst of lush green mountains full of natural beauty and is a great place for a day trip or picnic with your family or friends.
There are waterfalls, rivers, ponds, dams, monuments and historical temples, due to which this place is no less than a paradise for nature lovers. Let me tell you that people also go to this place for pre wedding shoot and it is also a very good place for photography.
If you are tired of the bustling and noisy life of the city, then you can come here and have a pleasant experience. It is approximately 158 kms from Ahmedabad, 258.2 kms from Vadodara, 70 kms from Himatnagar and 135.6 kms from Mehsana.
History of Polo Forest
The monument in the Polo Forest was built by the Parihar king of Idar and it was he who probably founded the city in the 10th century. After Parihar Raja, this area came under Rathor Rajput.
Flora and Fauna
There are different species of medicinal plants and animals here. Many types of birds and animals are present here such as flying squirrels, four-horned deer, hyenas, kiwi birds, leopards, panthers, raptors and wild cats etc.
Polo Forest things to do
There are many things to visit and do in Polo Forest. When you visit here, you can see the temple of Jain people. This place is quite good for people who are fond of trekking in natural places.
While coming here, you will get to see very beautiful views on the way. Apart from this, there are 15 century Jain temples here, seeing which you can imagine that time.
There is such a place in the Polo Forest where you will see many trees in a single line, the trees are very beautiful to see. You can easily go there among those trees and enjoy the views.
Best Point to Visit in Polo Forest
There are many monuments and temples here. In this forest there are ruins of 15 century Jain and Hindu temples like Sharneshwar Shiva Temple, Sadweta Savlinga Na Dera, Surya Mandir, Lakhena Na Dera.
Most of the Jain and Hindu temples present in the Polo Forest are located in Abhapur village and Atarsuba village. These temples are restored and maintained by the State Archaeological Department.
Lakhena na Dera
It was built in the 15th century, in which there are mainly 3 Jain temples located in the village of Abhapur, where there is a 13 km long tunnel which leads to the Idar Fort.
Jain Temple 1 – This temple is made of sandstone. The roof of the temple is attractively designed. At the entrance of the sanctum sanctorum is the statue of Jain Tirthankar Parshwanath with his attendant deity Padmavati.
Jain Temple 2 – This temple is a Tri Anghi Mandir (three elements) made of marble and bricks. In the middle of the entrance of the temple is the idol of Parshwanath.
Jain Temple 3 – This temple is also made of sandstone and bricks. On the outer walls of this temple there are statues of Padmavati, Ambika and Chakreshwari associated with Jain Tirthankaras Parshvanath, Neminath and Rishabhanatha.
Harnav Dam Site
This dam is a beautiful dam built on the Harnav river, this place is a very good place for bird lovers. Bathing on this dam is prohibited.
You must visit here while going to the Polo Forest. Coming here you can see the flow of the river and coming down you can see the dam.
Tryatan Shiv Shakti Mandir(Trayatan Shiv Temple)
Built in the 15th century, this temple is located in Abhapur. The idols of Brahma, Vishnu, Mahesh, Parvati, Ganesha, Yama, Bhairav, Indra-Indrani have been carved in this temple.
Polo Forest Eco Point
Eco Point is a very good place in Polo Forest, you must visit this place and do not miss it. Echo point is the place where your voice is heard when you shout loudly.
When you reach here, you can hear your voice screaming loudly. You have to pass through rough roads to reach Eco Point. There are many videos of Polo Forest on Youtube.
Polo Festival (Polo Mahotsav)
Every year, the Polo Festival is organized by the Government of Gujarat, which includes various events such as cycling, camping and other things. To enjoy the polo festival, one can stay at the Polo Camp set up by the government in the city.
Polo Forest Entry Fees Ticket & Other Charges
polo forest entry fees : Free
Polo Forest is a completely free place to visit, you do not have to take any ticket here, although if you are going here for a day trip, then definitely take food and drink with you.
Best time to visit ( Polo Forest best time to visit)
best time to visit polo forest
You can go to Polo Forest any time of the year, but the best time is monsoon, the greenery here increases a lot during the monsoon and the weather also becomes pleasant, the gusts of cool cold air will give you a different feeling.
At the same time, you can see the beautiful greenery of nature. After the monsoon, the river gets filled with water, here the river Harnav flows only in the month of monsoon. You can also do boating here by filling water in the river.
How to Reach Polo Forest
By Airplane and Train – The nearest airport and railway station from Polo Forest is Ahmedabad which is 160 km away. After reaching here, you can reach Polo Forest by bus, cab or private car.
Bus, Cab or Car – Polo Forest is located at a distance of 160 km from Ahmedabad, 70 km from Himmat Nagar in Gujarat and 120 km from Udaipur Rajasthan. One can reach Polo Forest via road.
Best Place to Stay in Polo Forest
There are hotels or resorts to stay here, along with you can also stay at the government camp site. Government camps are cheaper than hotels and resorts. To stay here, first you have to book it through Himmat Nagar Forest Department.
Map of Polo Forest